INK MARKERS
CLICK HERE to see our vast variety of ink markers!
BINGO CUSHION
Play bingo in comfort with this Bingo Cushion that slides over your chair and has soft padding for the seat and back.
Bingo pattern and color may vary. $24.95 each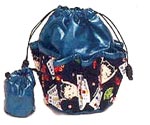 DELUXE BINGO BAG
This Deluxe Bingo Bag comes complete with ten pockets for your daubers and an insert coin pouch.
Bingo pattern and color may vary. $19.95 each

MINI BINGO BAG
This colorful Mini Bingo Bag is a smaller bag that holds 6-8 daubers.
Bingo pattern and color may vary.
$10.75 per bag
BINGO TOTE BAG
This tote bag with a large front pocket is perfectly themed for playing bingo and convenient for everyday use.
Bingo pattern and color may vary. $10.00 each

FOLDING BINGO BOARD
This special clipboard was designed especially for the bingo player. It's unique design unfolds so that you can secure up to four 6-on packs.
Color may vary. $24.95 each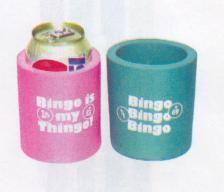 BINGO CAN COOLER
For those who like to eat, sleep, and drink bingo, this cooler is for you! This cooler keeps drinks cool while you play bingo. Comes in navy blue color. $3.50 each
BINGO SPORTS MUG
This sports mug holds a full 44 ounces, and will keep you full for hours while you play! Straw included. $5.95 each
TICKET ADMISSION HOLDERS
Ticket admission holders will hold your admission ticket and keep it handy for easy viewing. Color may vary.  $3.75 each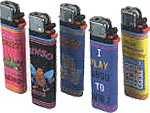 BINGO LIGHTERS
These bingo lighters "spark" an interest in our customers with their 5 unique bingo sayings. $1.00 each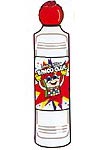 DAB'N STIC BINGO GLUE
Having your bingo cards blow around can be a nightmare during bingo play. This unique bingo glue helps your bingo cards stick to the table. $1.00 each.  $11.75 per dz.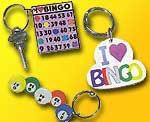 BINGO KEYCHAINS
These bingo keychains not only keep you from losing your keys, but they let the world know that you love bingo !
Choose either Bingo Card keychain, Bingo Ball keychain, or I Love Bingo keychain. $2.95 each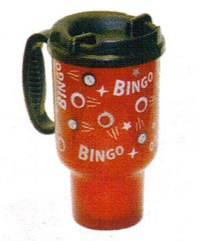 BINGO TRAVEL MUG
This insulated travel mug can hold 14 oz. of your favorite drink. Fits in most car cup holders. $4.95 each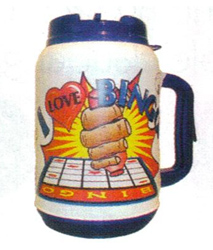 MONSTER COOLER MUG $7.50 each
COFFEE MUG $3.00 each
BINGO COVER-UPS
End any bingo game confusion by using these Bingo Cover-ups to help you keep track during a multiple bingo game. Available in round sets only.
$5.50 per set of 10
BINGO DECK
Each card in this 75 card Bingo Deck is marked with one of the bingo numbers from B1 to 075! Great for small games anytime a bingo blower is not practical! $7.95 per deck

PUSHOUTS
Pushouts are easy and convenient when chips and markers are not practical. They are printed on heavy card stock in various colors with the die-cut feature on each number. Simply push back the tab on the card that corresponds with the number called.
Colors may vary.  $25.00 per 750 cards.  $50.00 per 3,000 cards.

HAND MASTER BOARD
Hand Masterboard keeps track of numbers called. Masterboard has large easy-to-read numbers from B-1 through O-75 with shutters. $23.95 per board.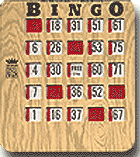 SHUTTER CARDS
Very popular in small bingo games. This card has large 3/8″ numbers with red see-thru shutters. Up to 6,000 different cards without duplication.
Shutter card has Kleer Kwik (KK) feature – center shutter clears card.
$2.25 per shutter card
LARGE HARD CARD
$6.00 ea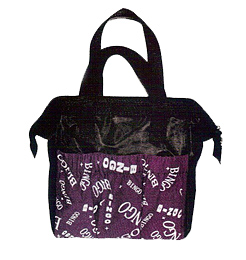 BINGO PURSE $12.95 ea
Medium size Bingo Bag with zipper holds 6 daubers.