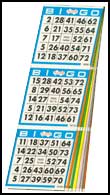 PADDED BINGO BOOKLETS
The most exciting way to play bingo is through Padded Bingo Booklets. Booklets allow you to fit the game to your needs. Each page of the
booklet is a different color, identifying a different game. Sheets are padded at one end and tear off easily. Players love receiving all their cards in booklet form at admission, and most of all, booklets increase your profits.
Available in various cuts including:
1-on, 2-on, 3-on, 4-on, 6-on, etc.
Available in:
1, 9,000, 18,000, 27,000, 36,000, 45,000, 54,000, and 63,000
series.
Also available in many bright colors.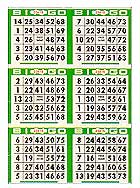 LOOSE BINGO SHEETS
1-on Sheet – 1 face on a sheet, 9000 sheets of one color per case.
2-on Sheet – 2 faces on a sheet, 4500 sheets of one color per case. Layed out vertically or horizontally.
3-on Sheet – 3 faces on a sheet, 3000 sheets of one color per case. Layed out vertically or horizontally.
4-on Sheet – 4 faces on a sheet, 2250 sheets of one color per case.
6-on Sheet – 6 faces on a sheet, 1500 sheets of one color per case. Layed out vertically or horizontally..

BONANZA BINGO / TREASURE HUNT
This great game is played on special folded and sealed bingo cards. Before your regular session begins, call 48 numbers and post them on a board. Play Bonanza Bingo towards the end of the session. The player with a coverall wins the jackpot prize. If there is no winner with the 48 numbers posted, call the 49th, 50th, etc., until there is a winner for the consolation prize. Singles (one card per sheet), 1,000 sheets per tray.
Triples (three cards per sheet), 1,000 sheets per tray.
Available in seven solid colors: orange, pink, green, orchid, blue, yellow and white.
DOUBLE ACTION™ BINGO
Double the fun – Double the action. Double Action™ is simple to play. Each card has 48 numbers, two numbers per square. Either number called and the player marks the square. Play any Bingo pattern and the game will play 50% faster.
3,000 single cards per case.
Available in 5 bright colors: blue, orange, green, yellow, pink.

PUSHOUTS
Easy and convenient when chips and markers are not practical. Pushouts are printed on heavy card stock in various colors with the die-cut feature on each number. Simply push back the tab on the card that corresponds with the number called. Pushouts are great for playing bingo at family parties, company picnics, and ideal use for the Safety Bingo at the company workplace.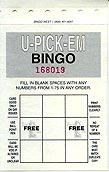 U-PICK-EM'S
A great add-on game to your program. Players select their own lucky numbers (1-75) in advance. If a player's numbers are picked within 20 numbers or less, that player receives the top prize awarded. If no player wins within
20 numbers, the game continues for a consolation prize.
U-Pick-Em cards are made in a two-part set, one copy for the player and the other copy for the operator. 1-on U-Pick-Ems:
1 bingo face on a card, 500 per package.
4-on U-Pick-Ems:
4 bingo faces on a card, 250 per package.