FlashPoint Bingo Display
Simply touch the Bingo Number on the 'Touch Screen'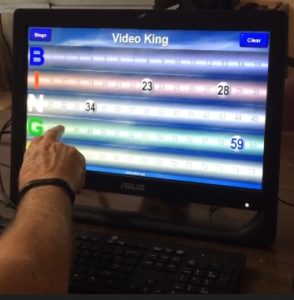 Ball zooms onto both 'Touch Screen' and TV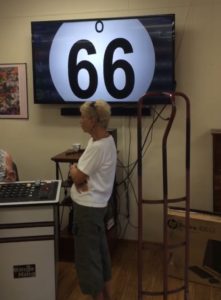 TV shows 75-number Bingo diplay, which shows all the called balls.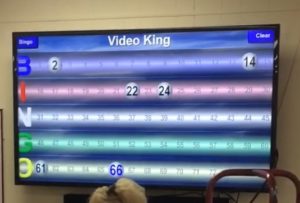 Caller presses the 'Bingo' button on the Touch Screen, once Bingo is called.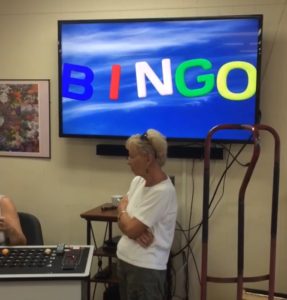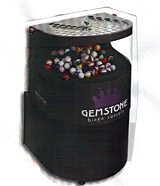 Gemstone Table Top Bingo Console
The Gemstone Bingo Console is preferred by many small game operators because of its size and lightweight design.  It is a portable unit designed to answer customer requests.  It is easy and convenient to set up, store and use.  At 36 lbs. it's perfect for easy put away and storage.
Electric Bingo Blower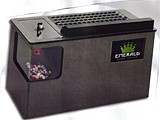 Emerald Bingo Console
The Emerald Bingo Console is easy to use.  By simply turning the power on, selecting a bingo ball from the ball catcher and then placing the ball in the tray, the flashboard automatically lights up!  This user friendly system allows you to program the memory to store up to 100 different game patterns.  Other features: Illuminated ball chamber, ball timer to keep caller on pace, and on-panel game pattern switches.
Sapphire Bingo Console
The Sapphire Bingo Console is the least expensive console on the market with a built in verifier.  It has a flat screen, 15″ LCD monitor that is easy to read, and there is a built in verification for all paper series and for playing the Bonanza game.  The Sapphire is easy to program – making complete game patterns a breeze.  Other features include: Wild number capability, ball timer, game pattern display and a laminate cabinet.

CONSOLES/FLASHBOARDS
4000 FLASHBOARD: Last number called flashes; has easy to read 4-inch numbers; sliding front panels for easy access to change bulbs; includes easy-mount wall brackets and 100 ft. of cable.
All aluminum frame is 29″h x 98.5″lx4.75″d.
POWER PLAY 500 CONSOLE
The most affordable fully functional bingo console to fit any size bingo hall.  This console uses features and technical advancements of the original Power Play Console.  Features a VGA monitor with built-in speakers, integrated mini masterboard, digital camera for live ball image, florescent light ball chamber, and easy to use software.
24″w x 62″l x 33″h

7500 FLASHBOARD
Built-in prize payout section displays dollar amount and game number; flashboard indicator displays moving game pattern; 8 inch digital read-out displays either game number, last number called or the number of balls in play; bingo and last number called flashes.  Includes 100 ft. of cable and easy-mount wall brackets.  All aluminum frame is 29″h x152″l x 4.75″d.
POWERPLAY CONSOLE
The most revolutionary bingo console ever designed.  New and improved state-of-the art console comes with multimedia display capability.  Ultra quiet front chamber has largest ball viewing in the industry.  Hardware and software upgrades are easier and faster than ever before.  Unique stereo sound and video capabilities complete the entertainment value of this unit.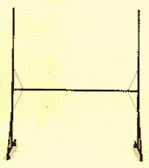 FLASHBOARD STAND
Fits 4000, 7000, and 7600 flashboards.  Roll-around flashboard stand (76″ high) is made of solid durable all-steel construction.
CAMERAS/MONITORS