BINGO BALLS
a) Samson™ Bingo Balls – are universally acclaimed for durability and integrity. Half-white, half-colored balls – available as a multi-colored set. 75 balls to a set.
b) Celluloid Bingo Balls – 1 ½ inch all white balls. Easy-to-see letters and numbers printed in black ink. If you need an inexpensive bingo ball, this is the set for you. 75 balls to a set. $36.00 per set.
c) Solid Plastic Cage Balls – 7/8 inch multi-color balls. Excellent bingo ball for small bingo cages. 75 balls to a set.
$19.50 per set..

Celluloid Cage – Perfect for small or private bingo games. Large cage includes 75 white table tennis balls and a pressboard masterboard.
$179.95 per set.
Coated Economy Cage – Suited best for that small game. Small cage is coated for quiet and trouble-free operation. Includes 75 multi-colored cage balls and plastic masterboard.
$69.95 per set.
RAFFLE DRUMS
a) Small Brass Plated Raffle Drum
8″d x 11″l x 12″h
holds approx. 1,000 tickets.
$120.00 each
b) Regular Brass Plated Raffle Drum
12″d x 16″l x 20″h
holds approx. 5,000 tickets.
$179.00 each
c) Large Brass Plated Raffle Drum
15″d x 20″l x 20″h
holds approx. 10,000 tickets.
Large Drum – $235.00 each

Attendance Tickets
Great for all organizations that require an admittance ticket, and/or for a raffle. Tickets are perforated, and have controlling numbers on opposite ends.
500 per package. $16.00 per pkg.
Single and Double Roll Tickets
Can be used as an admittance ticket or for a drawing for a prize.
2,000 tickets per Roll.
$6.00 per single roll.
$7.00 per double roll.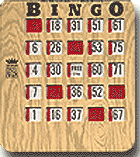 SHUTTER CARDS
Very popular in small bingo games. Card has large 3/8″ numbers with red see-thru shutters. Up to 6,000 different cards without duplication.
Shutter card has Kleer Kwik (KK) feature – center shutter clears card.  $2.25 per shutter card